Pieno Žvaigzdes going for the stars .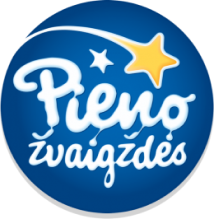 AB Pieno Žvaigždės Boosts Efficiency and Sustainability with Optimistic
Pienos Žvaigzdes is a prominent milk distributor in Lithuania, known for its commitment to delivering high-quality dairy products to consumers across the region. With a rich heritage in the dairy industry, Pienos Žvaigzdes leverages its extensive expertise to source, process, and distribute a wide range of dairy products, including milk, cheese, yogurt, and butter. The company places a strong emphasis on sustainability, partnering with local farmers and ensuring the highest standards in animal welfare and environmental responsibility. Pienos Žvaigzdes continually invests in cutting-edge technology and innovative processes to optimize its operations, reduce its carbon footprint, and maintain its position as a leading dairy distributor in Lithuania.
Introduction:
AB Pienos Žvaigzdes was seeking to enhance its operations and reduce its environmental impact. The company began testing the Optimistic in 2020, initially for milk collection, and fully integrated the solution by the end of the year. After trying several other solutions without success, Pienos Žvaigzdes found Optimistic to be the best fit for their unique requirements and operational needs.
Customer Testimonial:
AB Pienos Žvaigzdes shared their experience with the Optimistic solution, emphasizing the following benefits:
Customized solution:

Unlike other solutions they had tested, the Optimistic team were able to understand their specific needs and provide a tailored solution to address those requirements.

Excellent support:

The company highly valued the support provided by the Optimistic team, which played a crucial role in their decision-making process.

User-friendly interface:

The solution's interface was an important factor for Pienos Žvaigzdes, as it made the software easy to use and manage.

Seamless communication:

The Optimistic solution facilitated efficient communication of tasks from dispatch to driver, streamlining the delivery and collection process.

Enhanced operational effectiveness:

Optimistic allowed Pienos Žvaigzdes to improve their operations without changing the logic of their delivery and collection process, making their existing processes more effective.

Reduced delivery frequency and increased order amounts:

By optimizing route planning, the company managed to decrease the frequency of deliveries while increasing order amounts, leading to greater efficiency.

Significant reductions in transport usage and mileage:

With the help of the Optimistic solution, Pienos Žvaigzdes reduced its distribution mileage by about 100,000 kilometers per year, resulting in a 3% cost savings. For milk collection, the company achieved a 7% reduction in mileage per year, which contributed to decreased fuel usage and CO2 emissions.
Conclusion:
By implementing the Optimistic, Pienos Žvaigzdes has achieved considerable improvements in its operations, including increased efficiency, reduced environmental impact, and better communication between dispatchers and drivers. The company's success with the Optimistic solution highlights the importance of finding a tailored solution that addresses the unique needs of a business while providing exceptional support and an easy-to-use interface. With these enhancements, Pienos Žvaigzdes continues to strengthen its position as a leading dairy distributor in Lithuania, committed to both customer satisfaction and sustainability.